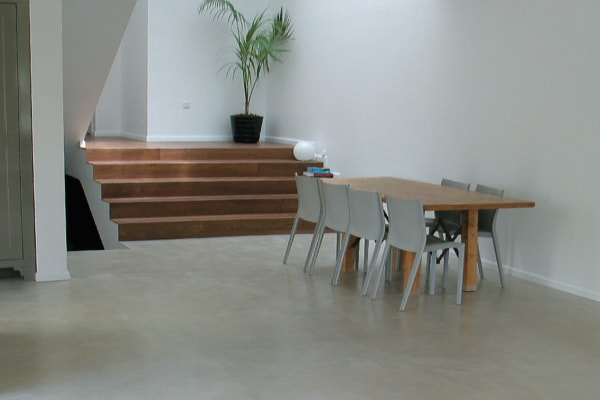 Ideal Work's Microtopping® is a flooring solution for renewing surfaces without removing the existing base. It is a polymeric cement that applies in numerous coatings with a maximum depth of just 3mm.  Now widely used, it can be applied directly to existing surfaces to achieve rapid renovation.
In this blog post, we'll be looking at 5 reasons to choose Microtopping® for your next project.
1. Versatility
When it comes to microcement flooring, there are numerous decorative solutions available, and since Microtopping® allows you to cover any surface, it provides optimum versatility. For example, you can apply it without having to worry about unsightly joints because of its continuous effect on floors and walls.  Microtopping® also comes with various colours and finishes that can be used on countertops, ceiling and bathrooms.
Designers consider microcement the best rendering solution as it can transform any surface with a different finish. You can even use different colours on each layer to create patterns for a unique theme.
2. High resistance
Microtopping® is highly resistant to heat.  Unlike other finishing materials, it doesn't show any visible defects, even when in contact with high temperatures. Microcement flooring surfaces have been tested to withstand the impact of fire, cracks and corrosion for long-term durability.
3. Bathroom friendly
If you're not satisfied with a conventional bathroom renovation, microcement bathroom flooring allows you to directly apply polymeric cement, even on tiles. And its water penetration qualities make it suitable for bathrooms, tubs and even sinks.
Microcement has good resistance to cleaning products containing chemicals and can act as a sealant. Moreover, its seamless coating makes cleaning surfaces effortless.
4. Easy to clean and maintain 
Microcement floors are hygienic and simple to clean and benefit from being stain-free and mould-free.  Daily cleaning can simply involve using water and a mild detergent.  However, it's always recommended to use cleaning products on a small, less visible area first, to be sure the product isn't damaging the varnish.
5. Value for money
Because this cement-based facing aids renovation of existing surfaces without the need for removal, this flooring material provides excellent value for money.  This means you can produce a concrete finish on nearly any surface for a fraction of the price of real concrete, and in some cases can be cheaper than laying tiles.
Renew your space with a high-quality, reliable flooring solution
Microtopping® is ideal for those wanting a seamless, tactile surface with a unique finish – allowing you to upgrade your space in countless ways.
The Polished Concrete Co. are leaders in the field of contemporary concrete design and approved installers of Ideal Work's Microtopping®.  If you want to find out more about Microtopping® costs, benefits and uses, contact our friendly team today and we'll advise you further.