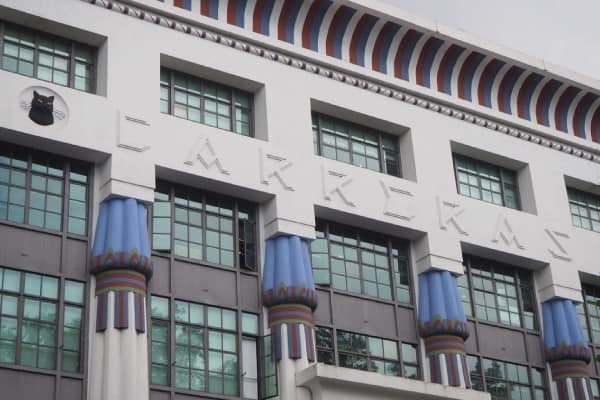 The former Carreras Cigarette Factory in Camden High Street, which is sometimes referred to as 'The Black Cat Building', is a striking example of early 20th century Egyptian Revival architecture.
The building, one of London's most unique architectural gems, was erected in 1926-28 by the Carreras Tobacco Company. But following the conversion to offices in 1961, much of the original Egyptian detailing was lost. Thankfully, during the 1990's, replicas of the original cats were placed at the entrance, hence why it is known locally as 'The Black Cat Building'.
When HR Signature Limited — London's interior and new build specialists — contacted and asked if we'd like to be involved in the interior renovation of the fourth floor, we were undeniably excited.
Initially, we sampled many different colours, including our more earthy tones — Beige, Beige Grey, Terracotta and Chocolate. The final colour of choice, however, went to our 100% Charcoal, providing an aesthetic closer to standard concrete. The result produced a striking effect, with the starkness of the concrete walls set perfectly against the grandeur and soft lines of the original building.
100m2 of Idealwork's Microtopping® Wall Texture was applied on the fourth floor lift lobby, with our expert installers successfully handling the challenging process of applying this ultra thin concrete topping.
Following the prep work for application to walls, the process of applying one coat of base, two applications of finish coat, and a high performance finish coat commenced. Our experienced team then primed and sealed the walls with a water-based sealer, ensuring a natural looking finish.
In-between each hand trowelled coat, our skilled fitters hand sanded the walls and removed any dust in preparation for the next coat. We worked in a team of three to trowel, ensuring the Microtopping® didn't dry too quickly and create unsightly lines. The highly labour intensive process took 5-7 days to complete.
The versatile nature of Microtopping® meant it was a delight to work with, and particularly interesting when contrasted with period features and other textures.
Our innovative and open-minded approach to Idealwork's Microtopping® design projects mean our clients can experience a unique space every time. As we continue to push the boundaries of what this versatile polished concrete topping can achieve, we have to wonder what the original designers of 'The Black Cat Building' would make of the updated design.