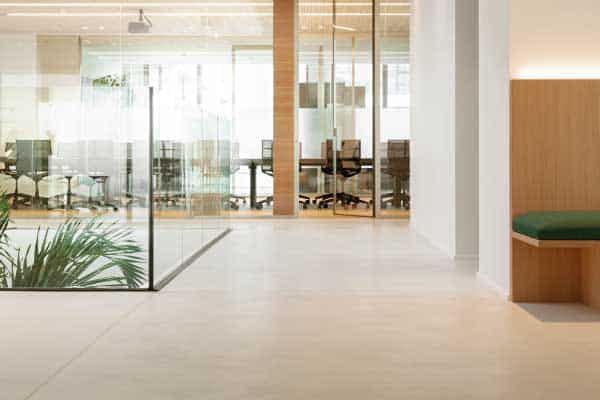 If you're looking for a low-maintenance, industrial vibe for your space, polished concrete flooring is a cost-friendly alternative to luxury stone floorings such as marble and granite. With its seamless finish, maximum durability, and stain-resisting properties, it's no wonder that more people are making the switch.
Our quick guide to polished concrete floor finishes will allow you to gain a better insight into what will work for your residential, commercial or retail environment.
Types of Polished Concrete
There are a vast range of concrete finishes and choosing which is right for you largely depends on your existing floor and design requirements. Let's take a deeper dive and look at some of the options.
Cement-based Overlay
This cementitious based concrete has a high-wear resistance suited to heavily-frequented areas such as public buildings, retail stores, and large residential areas, and can be laid onto an existing substrate to achieve the look and feel of polished concrete without using more traditional preparation methods.
PANDOMO® FloorPlus
PANDOMO® FloorPlus is an ideal choice for where there is a need for a cementitious floor with a hard-wearing, tough surface. By sprinkling high-quality specially selected aggregate into the freshly laid floor, the surface becomes much harder and is given a more homogenous décor compared to PANDOMO® Floor.
PANDOMO® Loft
For areas that require large-scale applications such as public industrial buildings, PANDOMO® Loft's is ideal. It is developed from a paste-like base of water and cement wherein its mineral top layer can be easily applied in thin layers to save more time and resources. It also offers aesthetically-pleasing designs that accompany contemporary spaces.
PANDOMO® Wall
For stunning transitions between your space's structures, PANDOMO® Wall sets the ambience either through a homogeneous surface or two coloured designs. When treated with stone oil, its surfaces are permeable, easy to clean, and durable. You can also get creative from the various designs, patterns, and textures to choose from.
Unique designs and seamless installation
Polished concrete flooring has built a strong reputation within the flooring industry. It's commendable for its eco-friendly properties and contemporary design.
With a wide range of polished concrete flooring choices, the artisans at Polished Concrete Co. are ready to enhance your contemporary space. Simply contact us today and our trained staff will be happy to talk you through your options in detail.