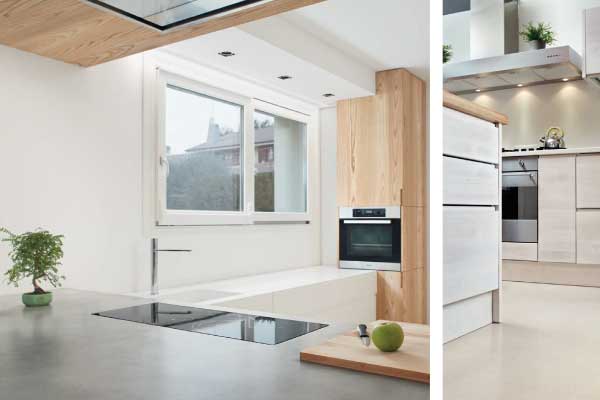 Unlike other types of decorative flooring, polished concrete floor maintenance is easy.  Regular cleaning doesn't require special equipment and ensures your floor remains a pleasure to walk across.
In this quick maintenance guide, we'll break down how to look after your polished concrete floor with a simple daily, weekly and monthly maintenance schedule that you can refer to at any time.
Daily cleaning
At the end of the day, use a microfibre, cotton dust mop or vacuum cleaner to remove dust and grit from your floor.  By sticking to this daily you will prevent grime build up over time, which would make the concrete floor more prone to scratches.  If wet mopping, use a neutral floor cleaner designed to lift the dirt particles, as water alone can be less effective.
Pro tip:  Clean spillages as soon as possible so they don't absorb into the surface.  If you require help on how to remove stains from polished concrete floors, our experts can help.
Weekly cleaning
Your weekly clean will be made easier if you've diligently stuck to your daily cleaning schedule.  Using warm water coupled with a mild detergent, mop your floor thoroughly before leaving it to dry.
Important:  Make sure to use a pH neutral polished concrete floor cleaner, as citrus, bleach, ammonia, or vinegar will be too harsh on your floor.
After the floor has dried, grab a wet mop and start scrubbing the floor carefully, making sure the water remains clean to prevent scratching the surface with grit. Finally, use a clean, damp mop to remove any residue that's been left behind.
Monthly cleaning
Every month it's a good idea to conduct a more thorough clean of your polished concrete floor.  Remove all loose dust and debris using everyday equipment, such as a broom or vacuum cleaner, and carefully remove any compacted dirt, grease, and sticky substances from the floor surface.
You will also need to repeat the surface polish or wax treatment as recommended by your polish manufacturer.  If you need further advice on this, our expert staff are happy to assist.
Avoid re-polishing and costly repairs
Polished concrete floors are one of the easiest flooring types to clean and maintain, and by sticking to a regular cleaning regime you will help to avoid costly repairs and re-polishing.
Our polished concrete services cover London and across the UK.  We have an unrivalled reputation as artisans in our field, delivering quality work that exceeds our customers' expectations.
Request your polished concrete flooring estimate today.