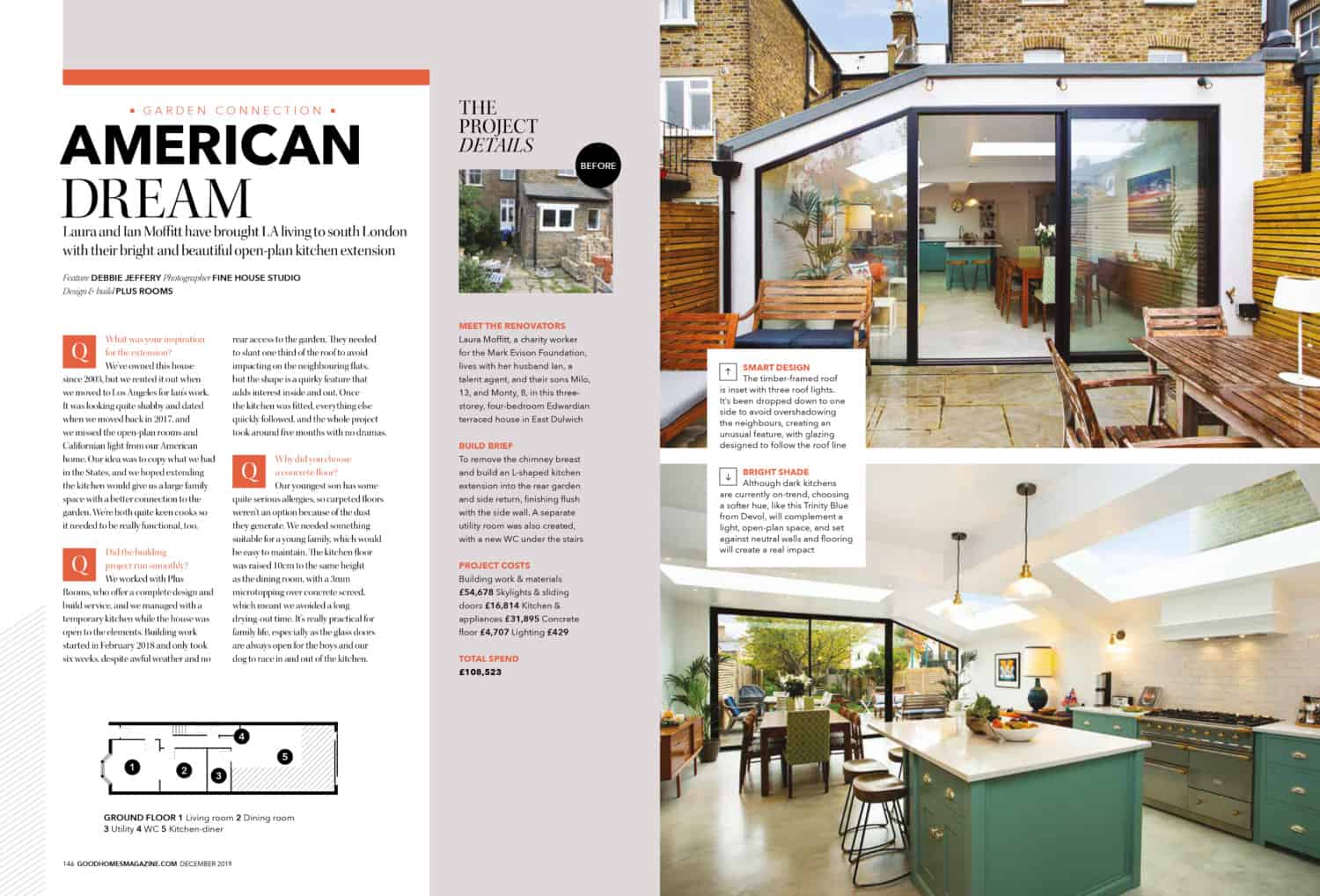 We're always delighted when we're able to contribute to an inspirational and innovative project. This is what happened when we installed polished concrete floors as part of a beautiful, LA inspired open plan kitchen extension in South London —featured in the Christmas edition of Good Homes magazine in December 2019.
Charity worker Laura Moffitt and her husband Ian share the property along with their two young children. As well as wanting a functional space to cater for their keen interest in cooking, they hoped that extending the kitchen would provide a large family space that allowed plenty of light and easy access to the garden.
They planned to replicate what they had in their Californian home, which they temporarily moved back into for Ian's work.
The LA inspired brief
The brief for the extension on the Edwardian four-bedroom house in East Dulwich involved taking down the chimney breast and building an L-shaped extension into the back garden. In addition, a utility room was created with a brand new WC placed under the stairs.
Keeping out the dust
Laura and Ian chose a concrete floor as their youngest son has some quite serious allergies, which meant that carpeted floors were unsuitable due to the amount of dust they generate. One of the benefits of polished concrete floors is that they are hypoallergenic. This means that allergens such as dust mites, mould, mildew, bacteria and moisture are prevented from growing or living on the surface.
Easy cleaning
Laura and Ian also wanted a floor suitable for a young family which would be easy to clean. Unlike tile and linoleum, which need aggressive scrubbing, polished concrete only requires normal sweeping and regular damp mopping to preserve the gloss. This makes polished concrete floors in kitchens a great choice for those living hectic lifestyles.
Cutting down the wait
We successfully raised the kitchen floor to the same height as the dining room, and to avoid a lengthy wait to polish with a grinding machine, we applied a 3mm Microtopping® over concrete screed. Usually, new concrete takes a few weeks to dry before polishing can start, but the application of this ultra-thin coating creates a similar effect in a shorter time.
Laura and Ian Moffitt successfully brought LA living to their south London home with a light, spacious kitchen and a floor that's both stylish and practical for a family space.
Rapid popularity of polished concrete
Having already established itself as a favoured option for many commercial properties, polished concrete floors are rapidly being seen in many contemporary homes. It creates a minimal and stylish look, particularly in rooms with an industrial edge, and offers a range of cost-saving and maintenance benefits.
Are you looking for style, exclusiveness and long term endurance for your home?
Our specially-commissioned polished concrete floors achieve maximum durability with minimal effort.